Hot Take: PlanetScope imagery does not perform well in high biomass situations. Where PlanetScope saturates, Sentinel 2 continues to show variability.
Comments section at end of article
Background
Many of us are familiar with Sentinel 2 imagery. It is currently the primary imagery source used in many ag related applications. Sentinel 2 is controlled by the European Space Agency (ESA) and the data is made freely available. It has a 10m spatial resolution with 5 day revisit cycle to any point on earth.
PlanetScope is a commercial imagery provider that images the whole earth almost daily. It has a 3 to 5m spatial resolution.
Last season I decided to experiment with PlanetScope imagery on one paddock to compare it to freely available Sentinel 2 imagery.
Crop details
The crop planted was lancer wheat that went in on 9 May 2022. As you will see in the imagery this crop has a few things going on:
Two stage planting due to rain event
Water logging through the western part of the field
Urea fertiliser rates changed through the middle of field
Phalaris weeds choking out wheat in the north western corner – controlled in June
All this makes the data interesting to examine.
The crop average yield was 4.75t/ha with 10.6% protein.
Imagery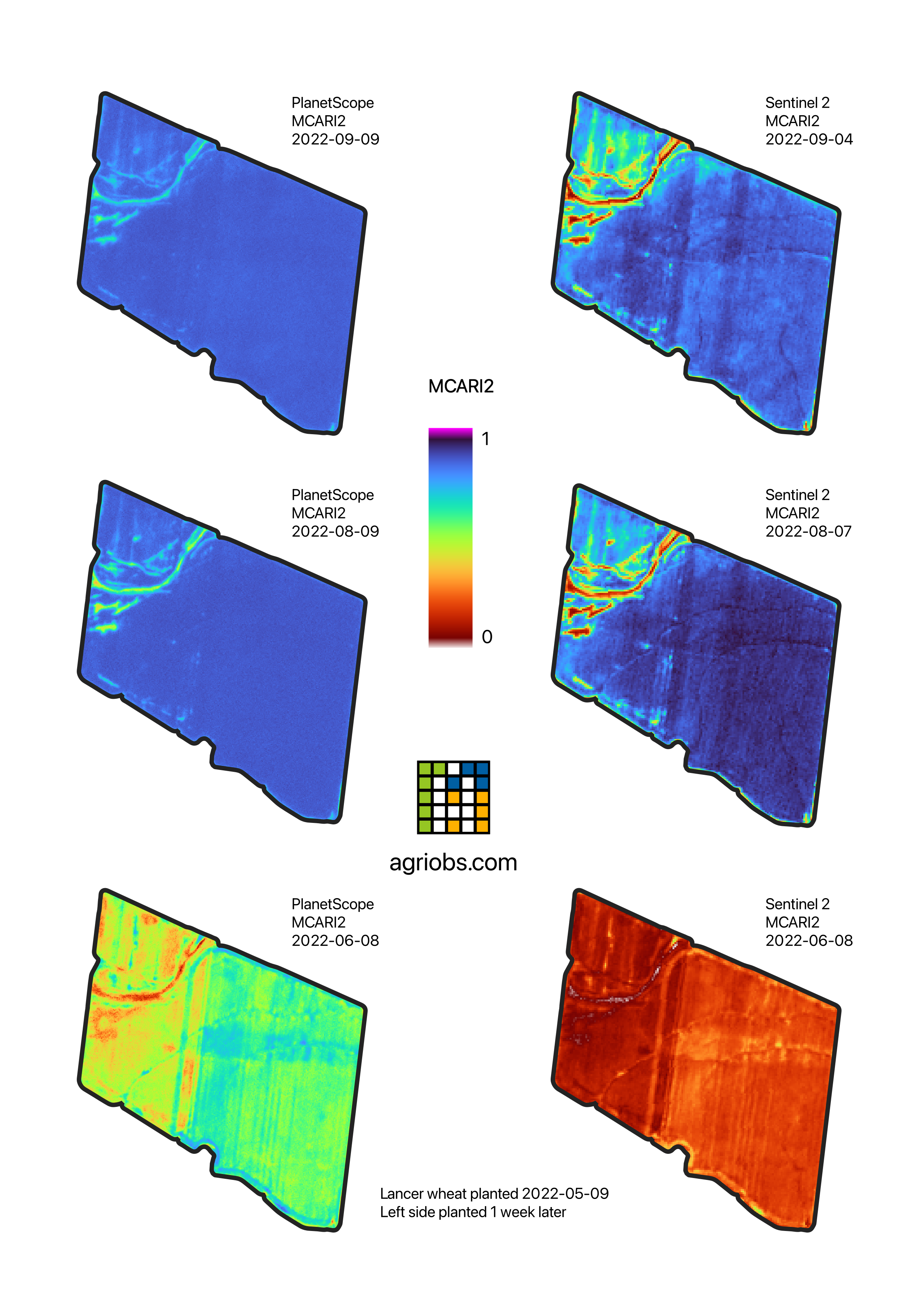 Data Discussion
It is very clear that in both the August and September acquisitions that the PlanetScope imagery does not detect any variability in the crop for the entire eastern half of the paddock. In the Sentinel 2 imagery the north-south running fertiliser rate affected strip and contour banks are detectable.
Furthermore, in the August imagery the Sentinel 2 image does a much better job at exposing the variability from all the issues in the east side of the field.
The early June PlanetScope image looks more sensible, but it's important to note the crop has only been established for 4 weeks.
The PlanetScope imagery boasts a higher spatial resolution which is discernible and useful in the June comparison. But this is where any quality advantage ends. The 3 to 5m spatial resolution gives no real benefit of understanding the severity of the issues at hand than the Sentinel 2 10m.
The real advantage when it comes to PlanetScope is the temporal resolution. You can't really beat daily imagery. With some farms unable to reliably get Sentinel 2 imagery due to consistent cloud, PlanetScope may necessary. Although, if you require imagery late in the season, it's unlikely that PlanetScope will be much use to you if is totally saturated.
Data processing and cost
Modified Chlorophyll Absorption Reflectance Index 2 (MCARI2) was calculated from both the Sentinel 2 and PlanetScope data. MCARI2 generally performs well at not saturating in high biomass situations. It's my usual go to instead of NDVI. The output image shows three different dates compared using a fixed color scale across both imagery types and all dates.
PlanetScope imagery is the most interesting commercial provider because they are collecting and archiving imagery of the whole earth all the time. That means you always have the option with Planet to go back in time and there is no tasking required.
I purchased the PlanetScope imagery through Sentinel Hub. Sentienl Hub costs EUR30 / month for a non-commercial license and the PlanetScope imagery cost EUR500 (EUR2.5/ha or AUD$3.85/ha or US$2.70/ha). The imagery is on a subscription type arrangement where you get all the imagery over a 12 month period dropped into a cloud storage bucket that you access through Sentinel Hub.
Once in Sentinel Hub you can access it on their EO Explorer or feed it through to a GIS software like QGIS or ArcGIS as WMTS or similar. There are some technical aspects to consuming imagery like this instead of in a specialised app but it provides a lot more freedom to process imagery how you like. Sentinel 2 imagery is accessed the same way, but there is no cost for the imagery.
Conclusion
In conclusion, these datasets are sourced from very different hardware systems which lead to vastly different outcomes. I do think that PlanetScope is appropriate solution in a high cloud area to make early assessments, for example to examine high N test strips. But moving more than a month or two into the growing season for cereal crops, the PlanetScope is likely to saturate in a positive season. I would not recommend spending extra money on PlanetScope if you have plentiful Sentinel 2 imagery available.